Trybike 2 in 1 Trike in Vintage Blue has been beautifully made with durable construction, stunning details and a quality finish, with wide inflatable Rubber Tyres that offer your child a more comfortable ride even over rougher surfaces.
This balance bike is ideal for helping your child transition from crawling, to walking, to balancing, to riding. Suitable from 15 Months as a Trike, later converting to a Balance Bike which is suitable for up to 6 years.
Kids on Balance Bikes learn their balance unbeknownst to themselves, whilst having fun, with the added bonus that when they graduate to bigger pedal bikes they can do so without training wheels.
Trybike is the perfect next step for your child as they go from walking to learning how to cycle. Most children will learn how to master a pedal bike within 1 or 2 hours if they are an experienced Trybike rider!
This Trybike Steel Framed combination 2-in-1 bike can be converted from a trike into a Balance Bike with a few simple steps.
Each bike comes with sticker sheets with loads of designs to choose from so you can customise your Trybike! Or even create a retro feel by adding a classic wicker basket to the front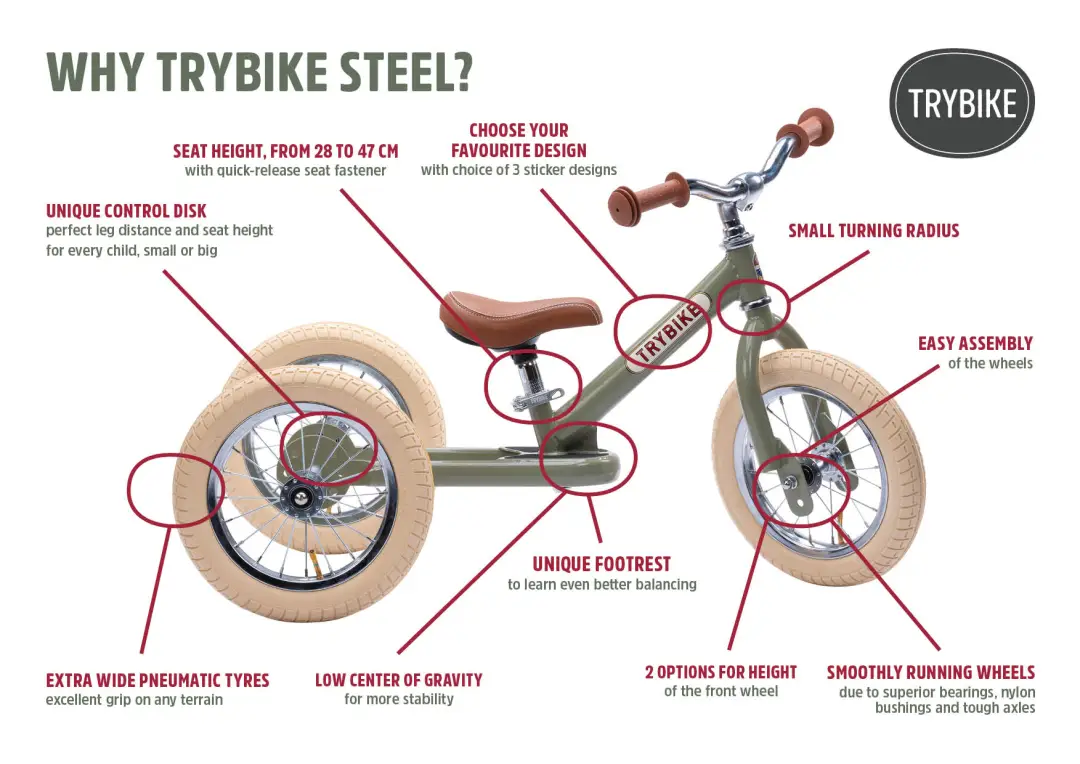 12 inch spoked steel wheels with nylon bushings, sealed smooth cartridge ball bearings and extra wide rubber inflatable tyres
Comes with a set of vinyl stickers for you to personalise your bike
Unique small turning radius
Quick-release seat fastener
Easy to assemble and to convert from 3 to 2 wheels
Unique control disk for the back wheel to ensure perfect wheel positioning
2 options for height of the front wheel
Unique footrest to learn even better balancing
Warranty: 2 years
Ages 2 – 6 years
Click Here For Our Kids Safety Helmets
Seat Height; adjustable from 30 cm to 45 cm
Length, from front wheel to rear wheel(s): adjustable between 87 to 94 cm
Width of rear wheels in 3-wheel setting: 49 cm
Width Handlebar: 41 cm
Height Handlebar: adjustable between 54 to 61 cm
Weight: 6.3 kg as a tricycle