EverEarth My First Activity Cube, finished in cute pastel colours, a 5 in 1 activity cube that enables children to use this multifunctional wooden toy to improve and develop their skills in many areas.
This stimulating, creative learning cube has moving beads, maze, shape sorter, abacus, moving cogs, counting blocks one to ten and many more moving parts – no surface is left empty!
This EverEarth My First Activity Cube is perfect to encourage socialising and sharing as friends can play too, to develop fine motor skills together.
100% wood from well-managed forests.
Suitable for ages 12 months and up.
Loads of bead mazes, an animal puzzle, sorting blocks plus more.
Presented in an EverEarth box for easy storage.
Dimensions; 20 x 20 x 20 cm plus the beads on top
EverEarth proudly use FSC® -certified (FSC® C106741), primarily solid wood, and water-based, saliva-proof paint for our wooden toys. All of EverEarth's product packaging is made from recycled material. EverEarth aim to promote sustainability by creating long-lasting products.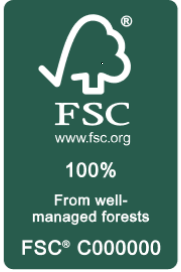 All Wood used come from responsibly managed, FSC-certified forests. Products with the FSC 100% label contribute most directly the mission to ensure thriving forests for all, forever.
Helping to preserving the lungs of the planet for the generations to come!